Description
Foglight® Evolve takes a holistic and proactive approach to hybrid cloud management so you can simplify the complexity of your data center, reduce infrastructure costs, maximize system performance, and predict future costs with more accuracy. Join the evolution in IT system optimization, visualization and cloud migration with Foglight Evolve.
Key benefits
Take control of your environment
Unlock hidden resources
Simplify cloud migration
Products
Foglight Evolve is made up of three products that can work together or individually depending on your specific needs: Foglight® Evolve Monitoring, Foglight® Evolve Operate and Foglight® Evolve Cloud. Depending on which products you use, you can eliminate complexity from your data center, decrease infrastructure costs, boost system performance and/or forecast future costs more accurately.
Make cloud migration and management simple and predictable. Migrate to the cloud with confidence, knowing how much it's going to cost and what performance you'll get now and in the future.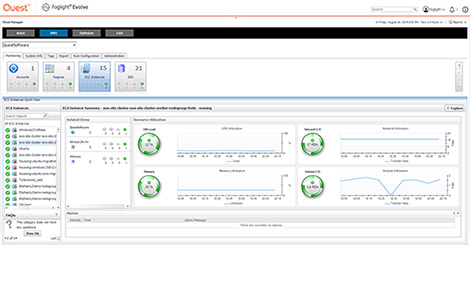 Foglight Evolve Cloud delivers real-time and historical analytics giving you the monitoring metrics needed to make optimal decisions when it comes to migrating to the cloud and managing cloud platforms, including:

Take control of your environment. Spend more time on innovation and less time on trying to keep your IT environment alive. Know that your infrastructure performance and uptime are being constantly monitored and optimized.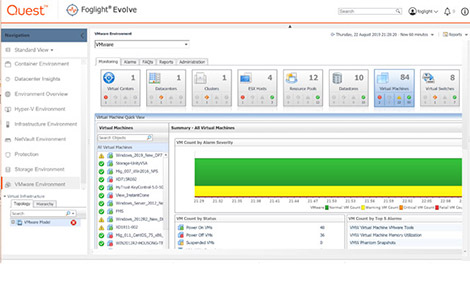 Unlock hidden resources. Reallocate compute power and resources you already have to improve performance, save money and avoid downtime. Your budget will go further and you'll have greater flexibility in IT decision making now and in the future.
Features
Automation – Undo changes, balance workloads across hosts & clusters, or create / decommission VMs automatically.
Resource utilization – Identify under-used resources, such as compute, storage and licensing, and reclaim those resources.
Trending – Forecast resource requirements for clusters, hosts and workloads — and predict capital expenditures.
VMware and Hyper-V management – Optimize configuration, performance and utilization of storage, hypervisors and virtual machines.